The Columbus Optical SETI Observatory
The Search for Extraterrestrial Intelligence (SETI) in the Optical Spectrum
The world's first Optical SETI web site, now in its 19th year
ANNOUNCEMENT
10 FT. DIAMETER FIBRE-GLASS ASTRONOMICAL DOME
FOR SALE TO A UK-BASED BUYER
ALSO POSSIBLY AVAILABLE
ORIGINAL 10-INCH MEADE LX200 SCT & ASSESSORIES
I am expecting to be moving again along the south coast in late October, and into an apartment. I have now decided to dispense with the 10 ft. diameter x 7 ft. high dome, and possibly my larger 10" Meade LX200 SCT, which were both shipped to Bournemouth, England from Columbus, Ohio, USA in 2008. Preferably, the astronomical or OSETI enthusiaste should be in a position to pick up the dome in Bournemouth before I move.
Please call: 01202-302654 if you are interested
Information about the Pro-Dome (Technical Innovations, Inc.) and telescope may be found here and generally within this web site. The US prices of the 10 ft. diameter Pro-Dome (PD10) can be found here. The Pro-Dome contains two 1 ft. high wall rings (WR10), making the dome 7 ft. high. A motor drive for rotating the dome is provided, but it works on a 110 V/60 Hz supply.
On January 24, 2008, after 26½ years in the USA, I moved back to the United Kingdom. Thus, The Columbus Optical SETI Observatory has effectively moved to Bournemouth, England. For information about my professional background, please click here.
Laser and OSETI pioneer, Professor Charles Hard Townes, died on January 27, 2015, aged 99. Click here for UC Berkeley News Center obituary. Thanks to Larry Klaes for sending the link: http://newscenter.berkeley.edu/2015/01/27/nobel-laureate-and-laser-inventor-charles-townes-dies-at-99/
For the Charles Townes page on this web site please click here.
For pictures of Charles Townes being presented with an award to mark the 40th anniversary of Optical SETI at SPIE's 2001 OSETI III Conference, please click here.
See also: 50 Years of Lasers and their Application to Communications
IEEE Spectrum Optical SETI Article by Monte Ross (2006)
The Columbus Dispatch, July 18, 2007, p. A1 & A4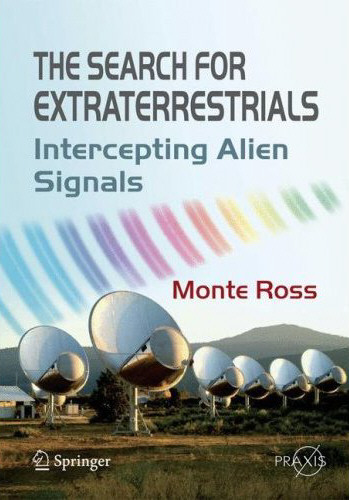 Book by Monte Ross, Published September 1, 2009
www.fiberdyneoptoelectronics.com
First Upload: April 7, 1996
Last Update: October 7, 2015