Northwold Road Synagogue
Stoke Newington, London N16, England
בית הכנסת אהל ישראל
Virtual Memorial Panels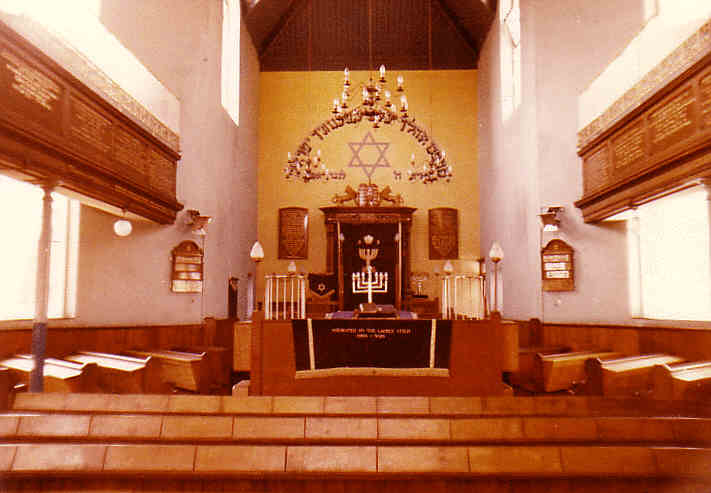 Front view of the octagonal shul
The actual arrangement of the memorial panels around the Ladies Gallery is as shown below. Click on each icon to observe the respective memorial panel. These pictures were taken in May 1982. The family names given are names of the deceased, and/or family and friends.
PERLMUTTER, YERKOVITCH, REICH, GOLDSTEIN, KRAKOFSKY

Panel 9

NEUFELD, ZIMMERMAN, SILVERSTEIN, SHAW, LANGLEY, KINTZLER

Panel 10

GLASMAN, PERLMUTTER, COHEN, WALDMAN

Panel 8

GOLDSTEIN, RAEN, FIERSTONE, GOTTLIEB, KINTZLER

Panel 11

SUDOVITCH

Panel 7

GRICCHENDLER, GOLSTEIN

Panel 12

DOBBER, KANTOR

Panel 6

GOLTZER, BARRES, BERG

Panel 13

COHEN, GOLDSTEIN, GRANT, KLINGER, GOTHELF

Panel 5

ROSENBERG, MALLINEK, CLIGHT

Panel 14

GREEN, LUBINSKY, LUBIN, GREEN

Panel 4

GEPSTEIN

Panel 15

VISHNICK

Panel 3

GRICCHENDLER

Panel 16

REIN

Panel 2

ESHKERI, BRODER

Panel 17

GLASMAN

Panel 1

COHEN, MILLER, DESTER, BERG, WISEMAN, MILLER, DIAMOND

Panel 18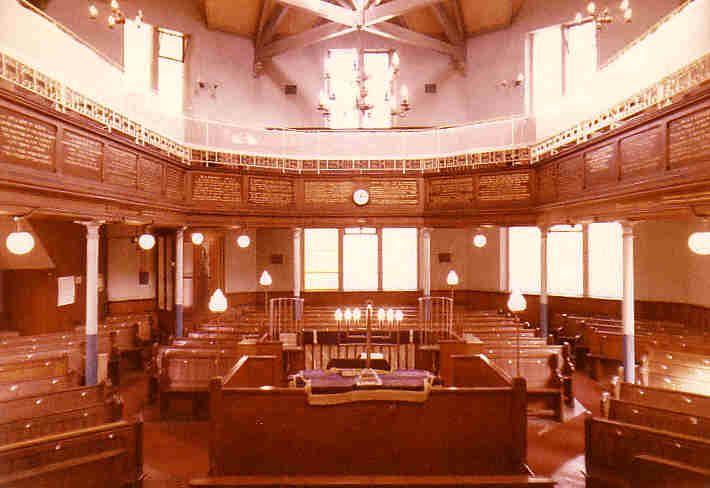 View of the Ladies Gallery, Memorial Panels and Bimah
Panel 10: Abraham Neufeld was one of the shul's founders. Samuel Kintzler was my father's father, and I, Samuel Yisroel ben Alexander, am named after him (שמואל ב׳ר אלכסנדר).
Panel 11: Betty Kintzler was my father's mother and sister of Maurie Blitz. She died during the great flu epidemic of 1918.
Panel 17: Lionel Broder was the shul's second rabbi, who served for most of its brief history.
Dr. Stuart A. Kingsley
March 9, 2003