OSETI III Program Schedule, Abstracts
and Conference Archive Links

The Search for Extraterrestrial Intelligence (SETI)
in the Optical Spectrum III

Conference No. 4273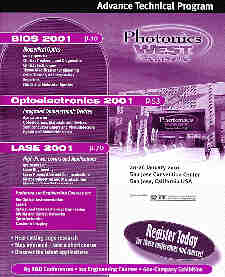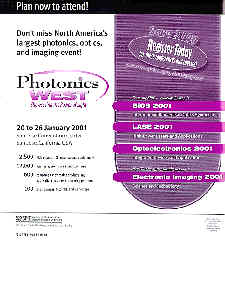 The Photonics West Exhibition is being held in the San Jose Convention Center. Because of the huge size of the Photonics West Symposium, unlike the case for OSETI II, this OSETI III conference is not being held in the actual Convention Center. It is being held at the nearby Hyatt St. Claire in a room called the Hyatt Courtyard. All attendees, including speakers, should register before January 9, to avail themselves of the pre-registration discount. Reduced fees are available for SPIE members, authors, students and part-week registrations. A link for registration on the SPIE Web site can be found on the main OSETI III page. If you have a full conference registration, which includes a copy of the proceedings, you are entitled to attend the complementary Free Space Laser Communication Technologies XIII Conference (#4272) that follows on Wednesday afternoon, after the conclusion of OSETI III.
The program schedule below is the most up-to-date schedule to be found either on the SPIE Web site or elsewhere on this Web site. Prior to the meeting, please check this page from time to time for further minor updates and information about any offsite visits.
Photonics West Exhibition, Convention Center, January 23-25
Career Fair, Convention Center, January 22-25
Wednesday, January 24 - Thursday, January 25
Free-Space Laser Communication Technologies XIII Conference (#4272)
Please check back from time to time for changes to the above list. Authors are strongly encouraged to visit the SPIE Web site to submit their abstracts as soon as possible, so that their information can be entered into the SPIE database and a temporary paper number assigned. SPIE will forward Author Kits to the contact addresses provided. The main OSETI III page on this Web site provides links to the SPIE Web site for all information regarding this conference, such as registration fees (available in November), hotels, etc.. All papers on this site are linked to a dedicated page that contains the abstract, biographical details of the principal author and contact information. Please write your short biography as you would wish to be introduced to the audience by your session chairperson.
After the conference, these linked pages will contain pictures of the speakers and eventually, archived RealVideo recordings of their talks and RealPresenter versions of their slides. For this reason, after the conference I would like all speakers to email me PowerPoint 97 or PowerPoint 2000 files containing all materials used in their presentations, in the order of presentation, along with their copyright release to The COSETI Observatory. If it is not possible to provide a PowerPoint file, please provide a zipped archive containing low-compression high-resolution (1024+ pixel wide) jpeg graphic files of each slide. I will endeavor to post video and presentation materials to these pages within a year of the conference. For the moment, the intention is to have separate RealAudio/ RealVideo and RealPresenter/RealSlideshow links at the bottom of each abstract page.
It is my desire to archive and preserve each speaker's contribution to this field for many years to come and allow those not able to attend the conference and others new to the OSETI field, to get a sense of how Optical SETI developed around the turn of the 21st century. Of course, the SPIE printed proceedings, which will be published several months after the conference, should be available for purchase from the SPIE Web site for several years to come. The proceedings of the OSETI I Conference (1993) and the OSETI II Conference (1996) are still available and may be ordered from SPIE by clicking here.
As more late papers and posters are submitted, this schedule and organization may slightly change. Please check back for updates to this program. Those authors who have yet to submit their abstracts, bios and contact info, please email the material to me as soon as possible. Some of the invited speakers were signed up for this conference a long time ago and may have forgotten whether they had submitted this information. If the material is missing from your conference page on this Web site then it signifies that these materials were not submitted by email or Web form.
Dr. Stuart A. Kingsley
Director, The Columbus Optical SETI Observatory
Chairman, SPIE's OSETI III Conference
This page last updated: January 20, 2001
---