Audio 1 (in stereo)
Memorial Service (extracts only) for Gerald M. Melnick (Warden 1971-1974)
Sunday, January 12, 1975

Officiants:
Rabbi Dr. I. Lerner (Egerton Road)
Rabbi S. Halstuk (Crowland Road)
Rev. A. Levin (Egerton Road)
Order of Service:
Afternoon Service
Psalm 121
Memorial Address
Memorial Prayer
Evening Service
Psalm 16
Yigdal
Adon Olam
Duration
Encoder
Psalm 121
Real One, 100 k
Windows Media, 100 k
Memorial Prayer
Real One, 100 k
Windows Media, 100 k
Psalm 16
Real One, 100 k
Windows Media, 100 k
Yigdal
Real One, 100 k
Windows Media, 100 k
Adon Olam
Real One, 100 k
Windows Media, 100 k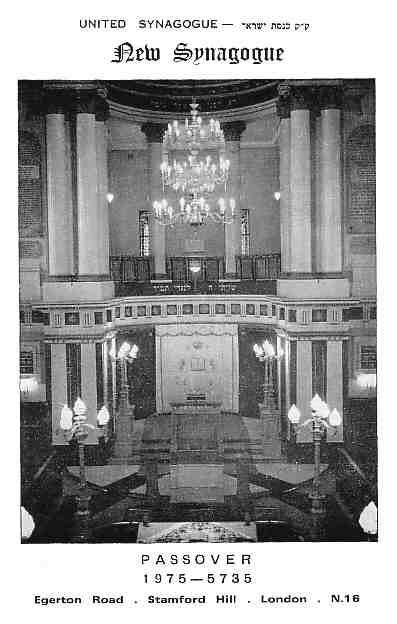 Audio 2 (in stereo)
Wedding (extracts only)
Sunday, August 12, 1979

Duration
Encoder
Real One, 100 k
Windows Media, 100 k
Video 1 (in stereo)
Valedictory Service (entire service)
Monday, June 23, 1992

Officients:
Dayan Ivan Binstock (London Beth Din)
Rabbi Geoffrey Shisler (Kenton/Bournemouth Synagogues)

Order of Service:
Afternoon Service
Valedictory Address
Evening Service
Concluding Remarks
Adon Olam
Hatikvah

*The first 320 x 240 pixel, 15 fps video clips to be uploaded are the Valedictory Address and Concluding Remarks. They have been directly encoded using Windows Movie Maker at 100 kbps rather than converted first to MPEG-1 files. If you do not have broadband Internet access to stream this file, right click to "Save Target As" to your hard disk and then play it from there. Indeed, you are recommended to save to disk first even if you have broadband Internet connectivity because you will want to play these clips more than once! They are not copy protected. These temporary clips taken under difficult low level light conditions, have not been enhanced (cropped, sharpened, contrast intensified and color corrected) at this time. Future clips will also have enhanced audio and be free of audio distortion.
**320 x 240 pixel, 30 fps video clips in stereo. Never mind the present picture quality, turn those speakers up and blow your mind! The slow, majestic Adon Olam is perhaps the most moving nigun in the entire repertoire of our choirmasters. You've heard of the wandering Jew, now witness the wandering camera eye as it pans and scans this magnificent shul. However, some clips don't show much in the way of panning and scanning, but then I was too engrossed in enjoying this historic service to spend too much time with my cameraman hat on!
Just encoding this clip brought tears to my eyes as my thoughts returned to those years when I attended Egerton Road with my late father and Benny Luxembourg on the second nights of yomtovim. Arnold Cohen and his son would always be sitting behind us. No doubt that you too will have a similar emotional experience. You may wish to play Ahavas Olam in a continuous loop, for amongst many, it is arguably the best nigun to come out of the New Synagogue. Enjoy.

Spacialize these stereo recordings (Spacializer Audio Laboratories, Inc.). You can demo this program before buying. The Virtual Sound Processor-11™ (VSP-11™) is highly recommended. Bring the acoustics of the New Synagogue into your home.

Click here for the "technical" page explaining how these video clips will be enhanced.

Frames grabbed from enhanced and processed video clips (Version 2.0):